Travel
The Ultimate Bali Honeymoon: Romance, Relaxation, and Adventure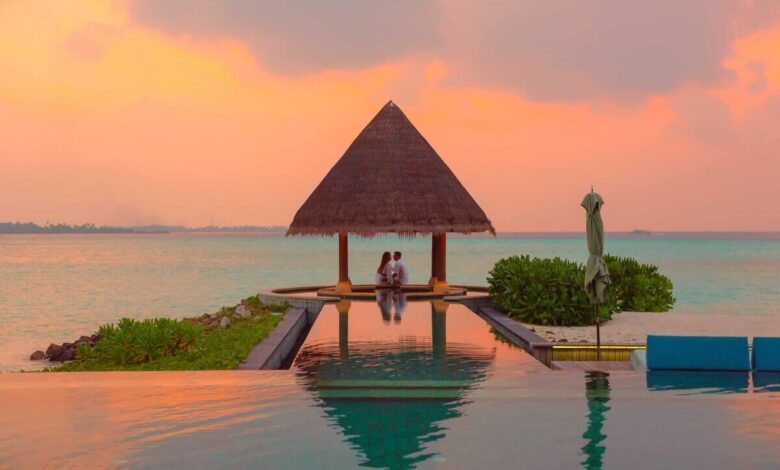 Are you looking for the ultimate romantic getaway? Look no further than Bali, a destination that offers the perfect combination of romance, relaxation and adventure. From beautiful beaches to lush rainforests, this Indonesian paradise is sure to create memories that will last a lifetime. Whether it's your honeymoon or just a special holiday, here are some tips on how to make the most of your time in Bali!
Bali has something for every couple: from luxurious resorts with private pools and spas to more affordable accommodations for those who want to explore all that this incredible island has to offer. For the adventurous types, there are opportunities for diving, snorkelling and surfing, while nature lovers can enjoy trekking through jungles or exploring hidden waterfalls.
Plus, there are plenty of shopping options and cultural experiences like temple visits. No matter what type of experience you're after – whether it's sipping cocktails by the pool or going off-the-beaten-path – Bali is sure to provide an unforgettable escape.
When it comes time to plan your trip, consider booking an all-inclusive package so you don't have to worry about anything but enjoying yourselves. There's nothing quite like having everything taken care of when it comes time for a break – especially on your honeymoon!
With these packages designed specifically around romance, relaxation and adventure, you'll be able to make the most out of your stay without stressing over details. So go ahead and start planning – because before you know it, you'll be jetting off on the ultimate Balinese honeymoon!
Destination Overview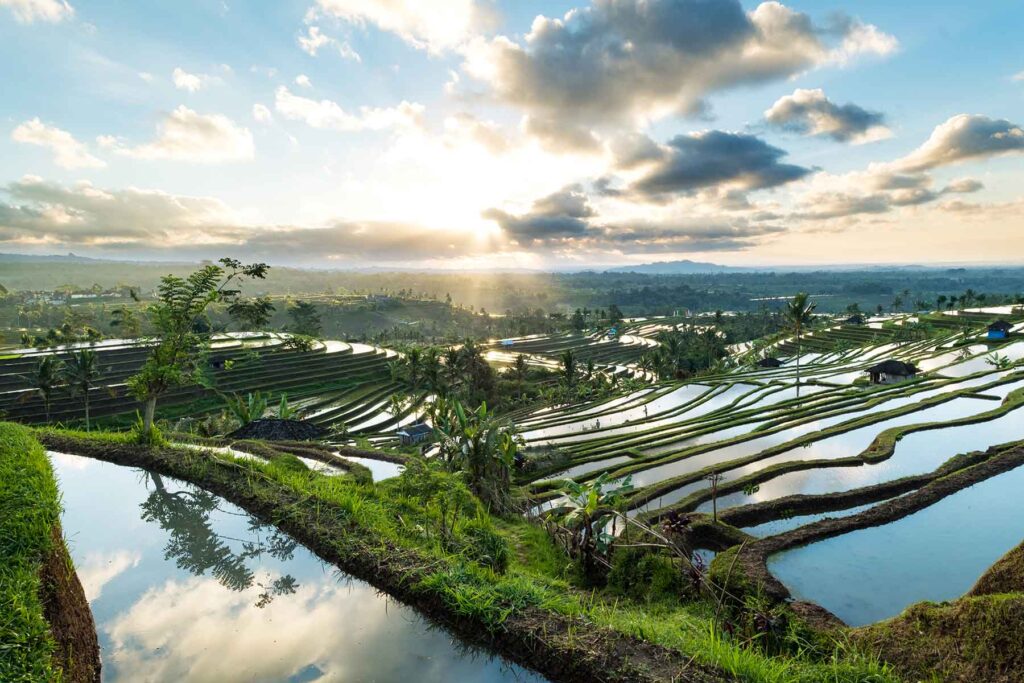 Ah, Bali! The perfect destination for a romantic honeymoon or destination wedding. With its sun-drenched beaches, lush jungle and spiritual culture, it's no wonder why many couples are drawn to this tropical paradise. Imagine you and your partner strolling hand in hand along a pristine stretch of white sand beach as the waves lap at your toes – what could be more romantic?
Inland there is still plenty of romance to explore, too, with majestic rice terraces that look like they were crafted by fairies, hidden waterfalls cascading through dense jungle and ancient temples tucked away amongst misty mountainsides. And after all that exploring, take time out to relax together with an indulgent massage or soak up some rays on the deck of a private pool villa with spectacular views over the island. Bali has everything you need for the ultimate honeymoon adventure.
Accommodation Options
When planning your Bali honeymoon, you'll want to make sure you find the perfect accommodation for a romantic stay. There are plenty of options when it comes to where to stay in Bali – from luxury villas and beach resorts to boutique hotels and private pool villas.
For couples wanting an extra touch of romance, a private pool villa is ideal. You can choose one that's close enough to explore all the attractions this beautiful island has to offer but still away from the hustle and bustle. Here you can relax by the pool or take a dip together before heading out for dinner.
You could also opt for a more luxurious option with a beach resort offering stunning views of the ocean along with all kinds of amenities. From spa treatments and fine dining restaurants to infinity pools overlooking lush gardens, these resorts provide everything you need for your ultimate romantic getaway. No matter what type of accommodation you decide on, there's no doubt that it will be nothing short of amazing!
Cultural Experiences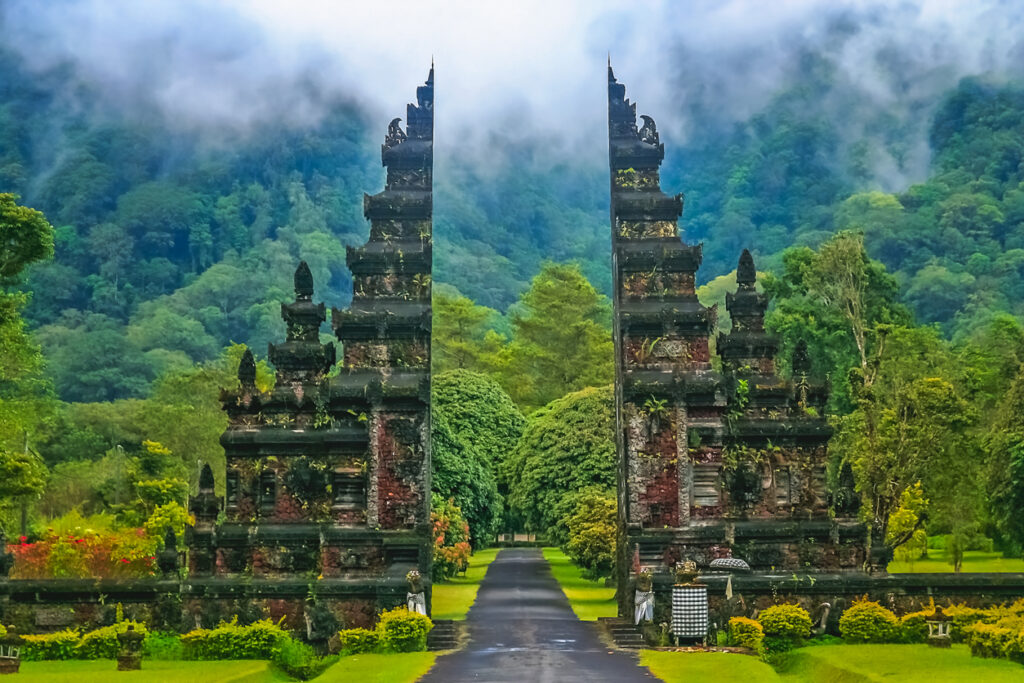 Have you heard the theory that Bali is like a melting pot of cultures? It's true! The island is home to Hindu, Buddhist, Christian, and Muslim influences. During your honeymoon, there are plenty of opportunities to explore Balinese culture and customs – perfect for creating lasting memories together.
Start in Ubud, where traditional life still flourishes away from the beach resorts along the coast. Here you can wander through rice paddies, visit temples dedicated to gods and goddesses or attend a Kecak dance performance at nightfall.
While venturing further inland, don't miss out on seeing some of Bali's most iconic landmarks, such as Goa Gajah (Elephant Cave), Tirta Empul Temple (Holy Water Spring) or Gunung Kawi Sebatu temple complex. This is also a great chance to sample authentic Balinese dishes too; think flavoursome Ayam Betutu (roast chicken) served with coconut sambal sauce and steamed white rice!
From exploring local villages and markets to witnessing spectacular sunsets atop volcanoes – an unforgettable cultural experience awaits you both in Bali!
Outdoor Activities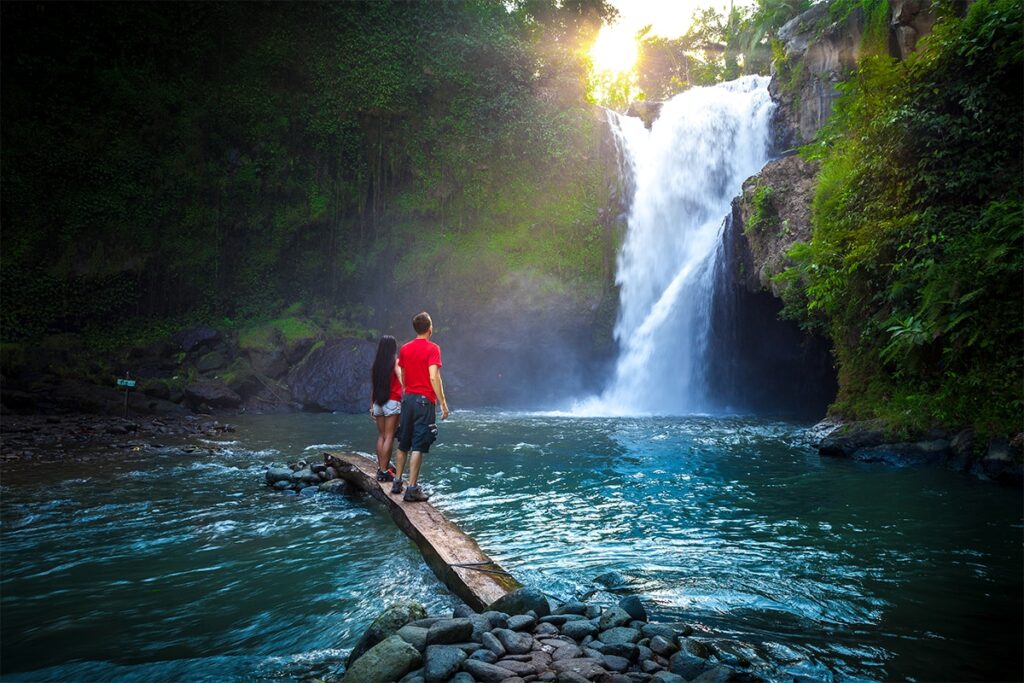 After exploring the culture of Bali, newlyweds can also explore its majestic outdoors. From snorkelling in crystal-clear waters to trekking through lush jungles and volcanoes, there's no end to the outdoor activities awaiting honeymooners!
One popular activity is visiting a beach on the southeast coast that boasts some of the best snorkelling and diving spots around. The coral reefs are teeming with colourful fish, sea turtles, and other marine life. Couples can spend hours floating just above them or take a guided tour for more information about this unique ecosystem. Along with swimming and sunbathing, they can enjoy romantic picnics while taking in breathtaking views of the Indian Ocean.
Hiking trails offer an exciting way to explore Balinese landscapes like terraced rice paddies, tropical rainforests, mountainsides filled with wildflowers and wildlife, and even active volcanoes. There will be plenty of chances for couples to get off the beaten track, whether it's jungle trekking at dawn or mountain biking during sunset – both providing stunning photo opportunities too! With all these options available, honeymooners won't have any trouble finding their perfect outdoor adventure.
Dining Out Options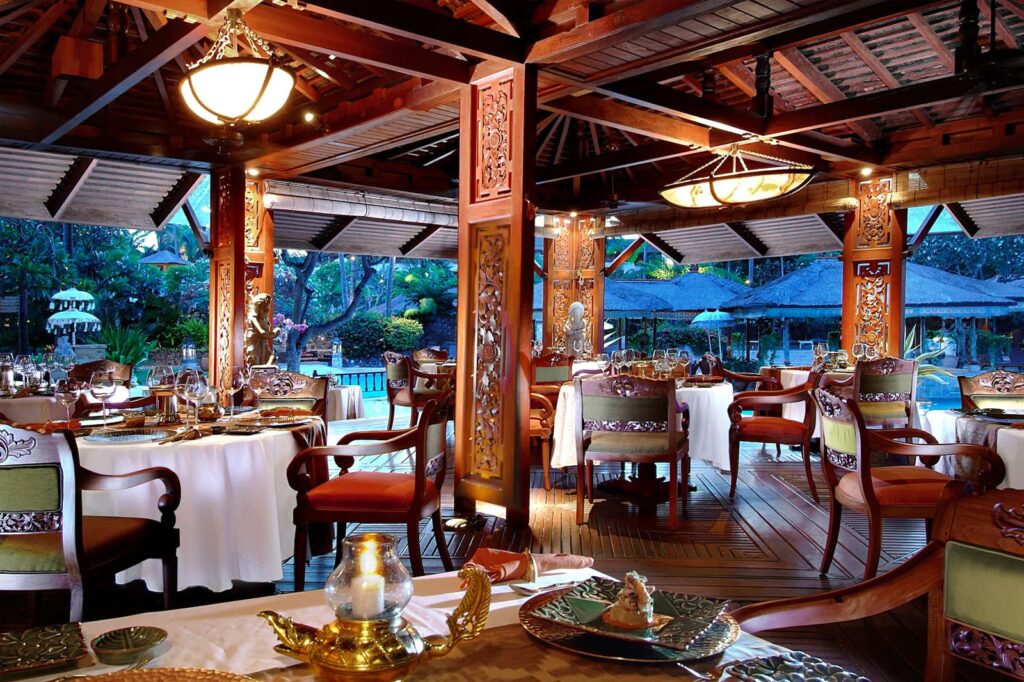 Bali is a paradise for honeymooners when it comes to dining out. The island boasts an array of delicious culinary delights, from traditional Balinese fare to international cuisine. It's no wonder that so many newlyweds flock here for their romantic getaway!
Imagine sitting beachside at sunset, sipping on your favourite cocktail and noshing on some succulent seafood cooked over an open flame – the perfect way to end any day in Bali. If you'd prefer something more homely, there are plenty of local warungs (family-run eateries) serving up hearty dishes like nasi goreng or bakso soup.
For those seeking fine dining, check out one of Bali's renowned restaurants, where master chefs prepare exquisite meals with fresh ingredients sourced straight from neighbouring farms and fisheries. Of course, if you're looking for something truly unique, why not try the famous Babi Guling roast suckling pig? With all these options available, you'll never be short of places to eat during your stay!
Shopping and Markets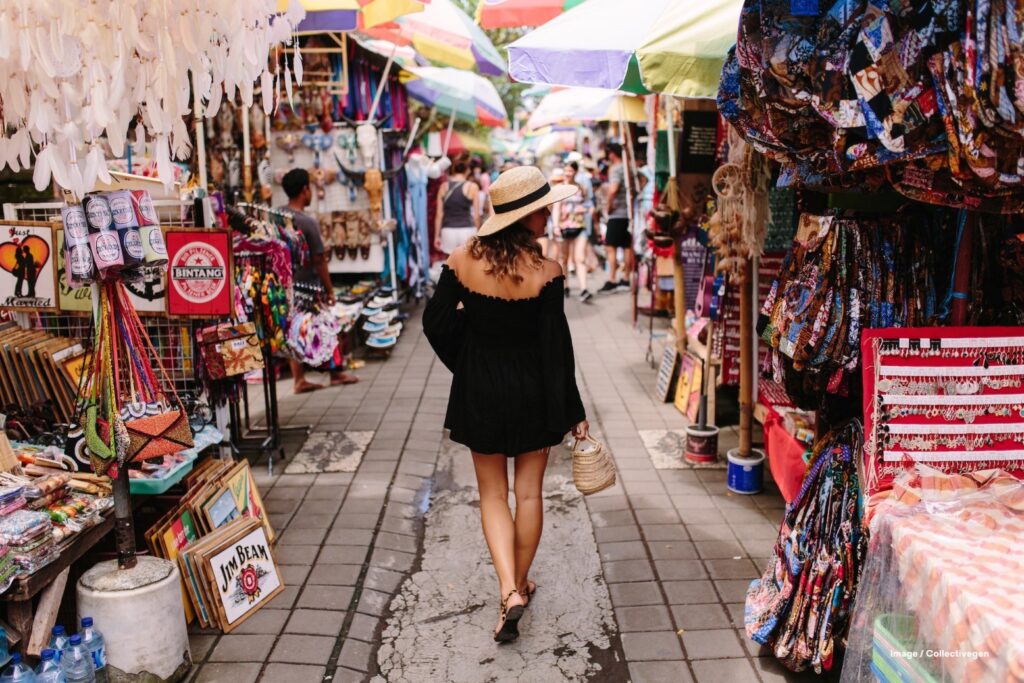 Bali's shopping is as diverse and vibrant as the culture itself. From open street markets to boutique stores, there's something for everyone here. Whether you're looking for clothes, souvenirs or handmade crafts from local artisans, you'll find it in Bali.
For an authentic Balinese experience, make sure you visit one of its many traditional markets. Kuta Market is a bustling local market with everything from sarongs to kitchenware and souvenirs – great if you're looking to pick up some bargain buys!
Ubud Market has a more touristy feel but still offers plenty of interesting items such as scarves, jewellery and beautiful carvings. For those seeking luxury goods, Seminyak Square Shopping Centre stocks designer fashion brands. As well as clothing stores, there are also beauty salons and wellness spas dotted around the area.
No matter what your budget is, Bali will provide numerous opportunities for retail therapy during your honeymoon. There's no better way to spend quality time together than browsing through all that this tropical paradise has on offer!
Local Beaches and Islands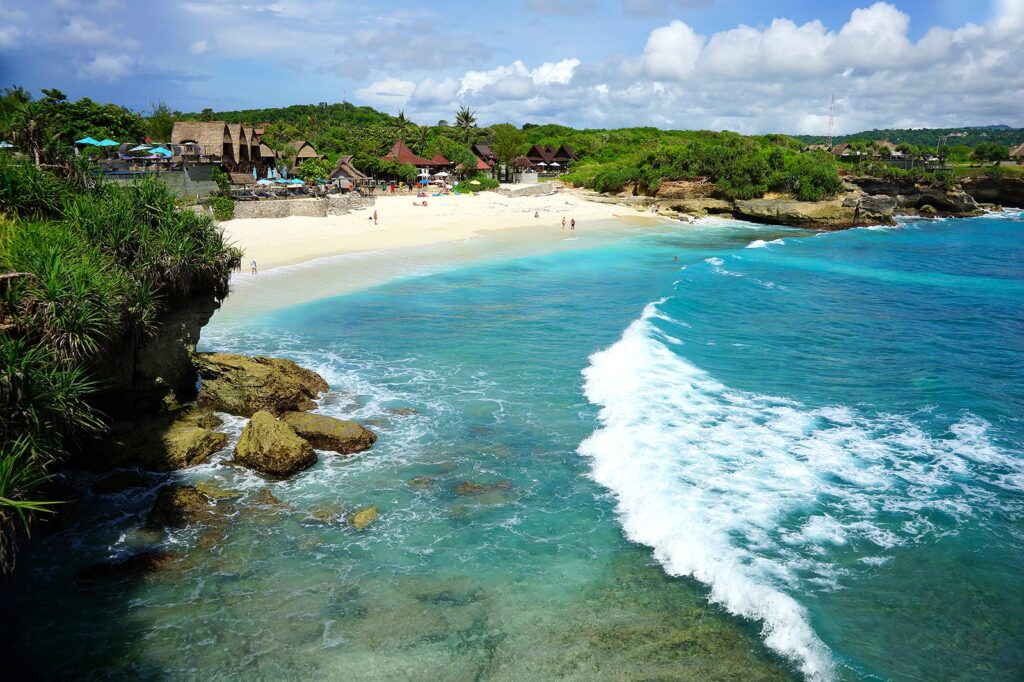 Bali is a paradise for honeymooners, with its stunning beaches and idyllic islands. It's the perfect place to take in some romantic sunsets and enjoy quality time together. From pristine white sand beaches to hidden coves surrounded by lush green hills, there are plenty of spots to explore.
To paint the ultimate picture of romance, imagine walking hand-in-hand along an endless stretch of golden beach or snorkelling around the colourful coral reefs that surround many of Bali's islands.
Nusa Penida Islands offer something special for couples looking for adventure during their honeymoon. Enjoy swimming, diving, kayaking and more while marvelling at all that nature has provided here. There really is no better way to kick-start married life than exploring these natural wonders!
Spas and Wellness Centres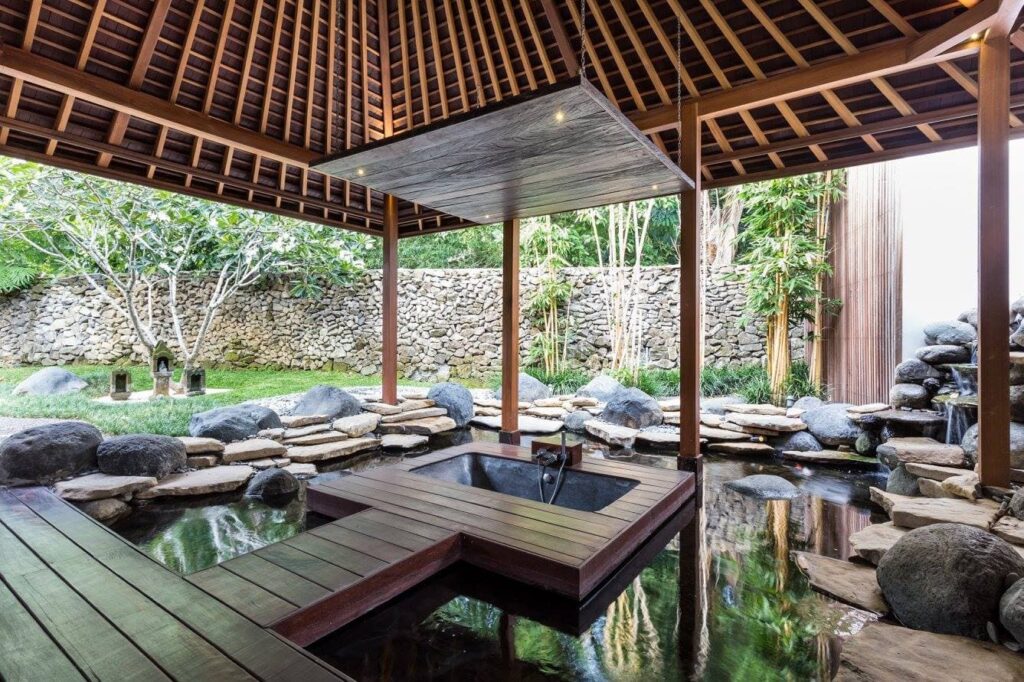 Continuing the romance and relaxation, Bali is home to many spas and wellness centres. From traditional Balinese massages to hot-stone therapies, there's something for everyone. It's easy to find a spa offering treatments to suit any budget – from luxury spas with all the high-end amenities to more affordable retreats located in lush tropical gardens.
At these tranquil spots, you can enjoy a range of treatments designed to nourish your body and soul. So take some extra time out while on your honeymoon and indulge yourself with soothing facials, massage therapy, or even yoga classes. Afterwards, you'll be refreshed and recharged so that you can continue exploring all that this beautiful island has to offer. There's no better way to end the day than by retreating into blissful serenity at one of Bali's renowned spas!
Nightlife Hotspots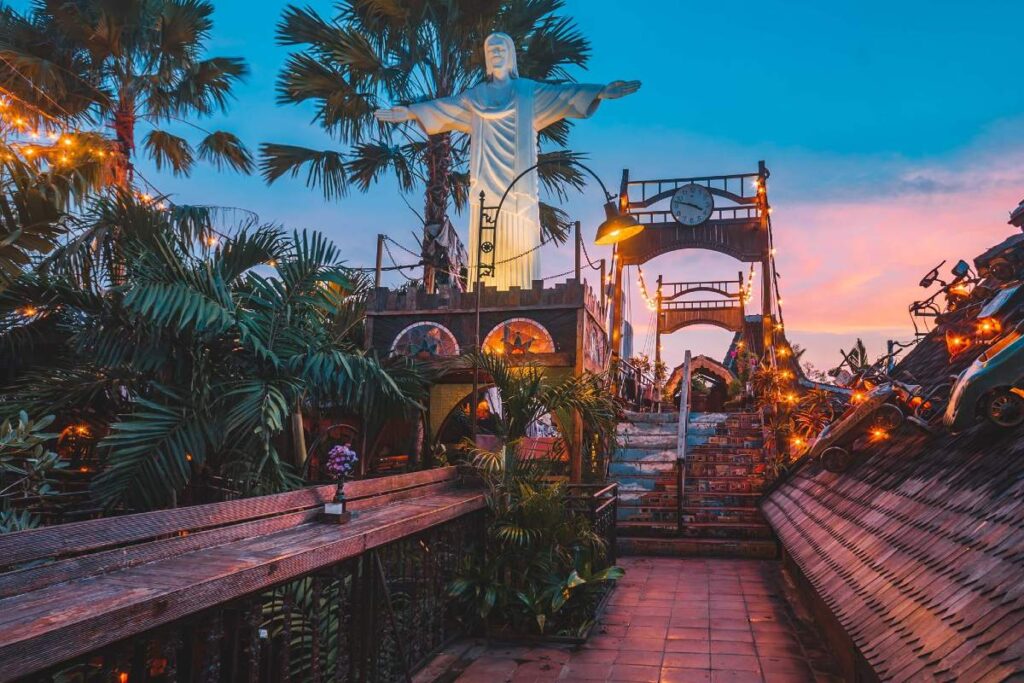 For couples looking to get a little wild on their Bali honeymoon, there's no shortage of nightlife hotspots! From beachside shacks serving up sunset cocktails to lively bars that stay open until the wee hours of the morning, you'll never be short of places to boogie.
First off, Seminyak is one of the most popular spots for nightlife in Bali and offers the perfect setting for an unforgettable evening out. Whether it's sipping tropical drinks at Ku De Ta or dancing away into the early hours at La Favela, this trendy part of town has something for everyone. For those wanting more seclusion and romance, head down to Jimbaran Beach, where you can enjoy seafood dinners under the stars while watching fire dancers twirl around flames.
With its laid-back atmosphere and pumping party vibes, Canggu is another must-visit destination. Spend your nights lounging at Old Man's before heading over to La Brisa for some live music – just make sure you don't miss out on The Lawn too! To finish off your balmy evenings with a bang, end your night at Pretty Poison: it's got incredible views over rice fields and serves up top-quality beats from international DJs all year round. No wonder so many people keep coming back here again and again!
Beach Clubs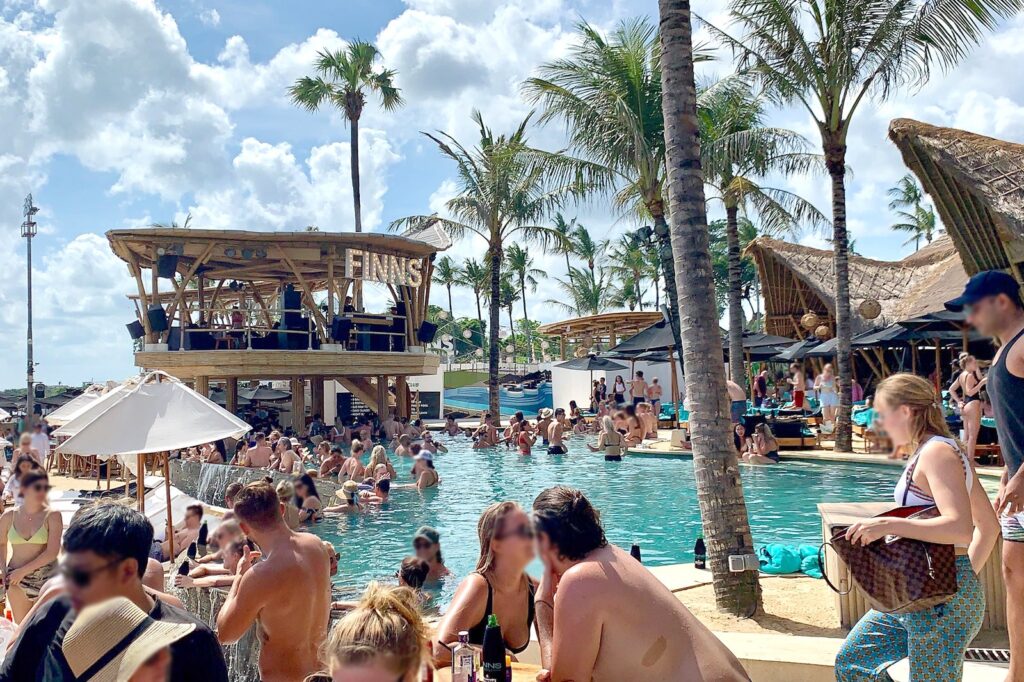 Beach clubs in Bali offer some of the best nightlife experiences on the island. From beachfront bars to chic, modern dance clubs, there's something for everyone. Whether you're looking for a romantic evening with your significant other, a wild night out with friends, or a relaxed day of sunbathing and swimming, Bali's beach clubs provide the perfect backdrop.
With a variety of different atmospheres and music styles, from EDM to reggae, there's something for everyone. Plus, with stunning views of the Indian Ocean, you can't go wrong. So no matter what type of experience you're looking for, Bali's beach clubs are sure to provide the perfect setting.
Travel Tips
When planning your ultimate Bali honeymoon, there are a few travel tips to keep in mind. To get the most out of your trip and ensure it runs smoothly, it's important to do some research beforehand. Start by familiarising yourself with the public transport system as well as any safety concerns specific to the region. Make sure you also know what documentation is required for entry into Indonesia – this includes visas, passports and possible vaccinations if travelling from certain countries.
To make the most of your time away, consider pre-booking activities such as sightseeing tours or boat trips which can be done through local tour operators found online or at hotels. By researching ahead, you will also save on accommodation costs by looking out for special deals and packages that offer discounts when booking multiple nights stay. Booking private transfers from the airport to the hotel can further add convenience – especially if arriving late at night or early morning!
Conclusion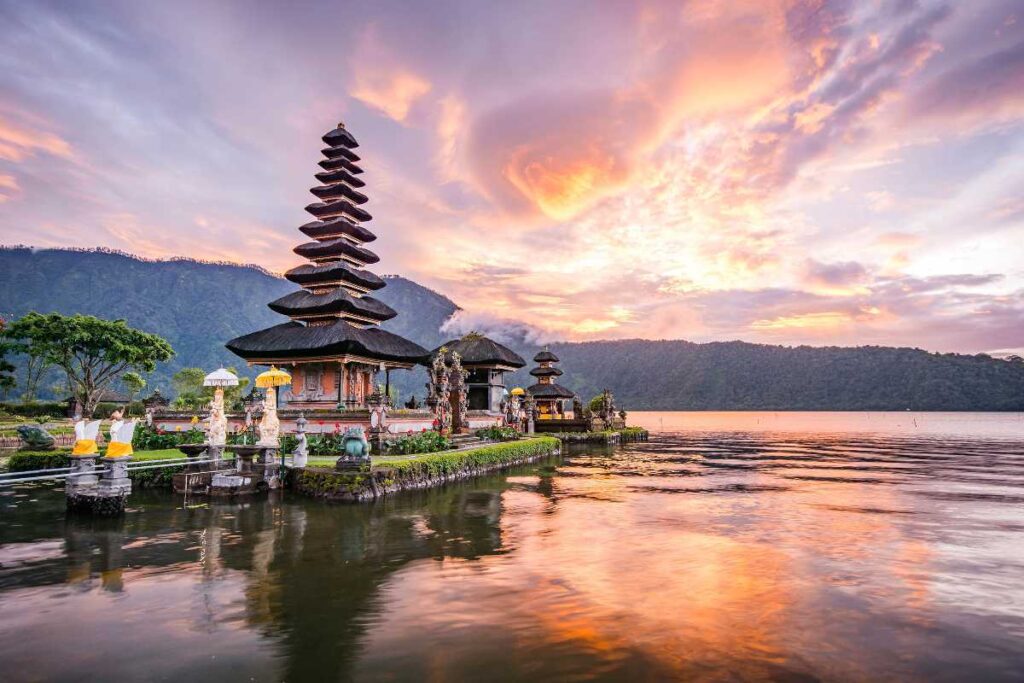 With its stunning beaches, lush jungles and vibrant culture, Bali is the ultimate destination for honeymooners looking to get away from it all. Whether you're after romance, relaxation or adventure, there's something here for everyone. From luxury beach resorts to traditional Balinese spas, dining out experiences to thrilling outdoor activities – this incredible island has it all!
We recently spent our own honeymoon in Bali and can vouch that it was an unforgettable experience. Our days were filled with swimming at serene beaches and nights full of exploring local nightlife hotspots – we even went on a romantic sunset dinner cruise which provided us with breathtaking views of the ocean. Not only did we find ourselves completely immersed in Bali's unique culture, but we also felt like royalty thanks to the hospitable locals who always made sure we had the best time possible.
So whether you're newlyweds looking for your dream escape or just need a break from everyday life – consider planning your next holiday in beautiful Bali. You won't regret it!