Guide
Comprehensive Guide on Choosing Pizza Peels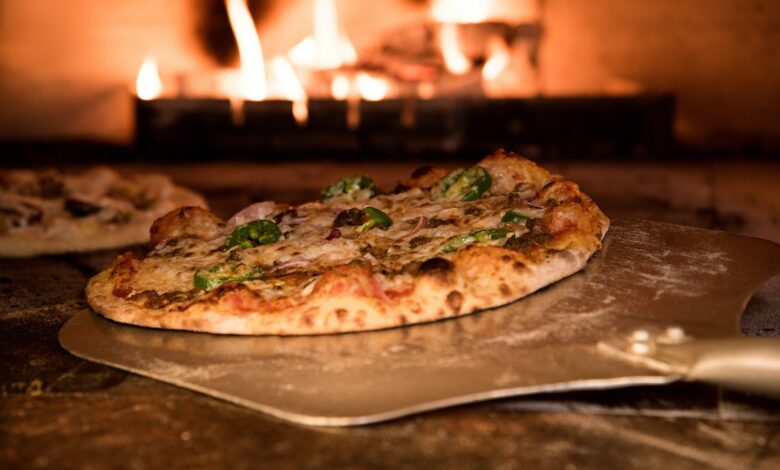 As professional pizza makers say, a pizza peel is an extension of your hand. This tool is an integral part of the Italian cuisine cooking process. It allows you to be safe and maintain the appearance of a pie as you put it in and out of the oven. So how do you choose the right pizza spatula to be a worthy extension of your hand, and do you really need this tool? Read about it below.
What Is a Peel For?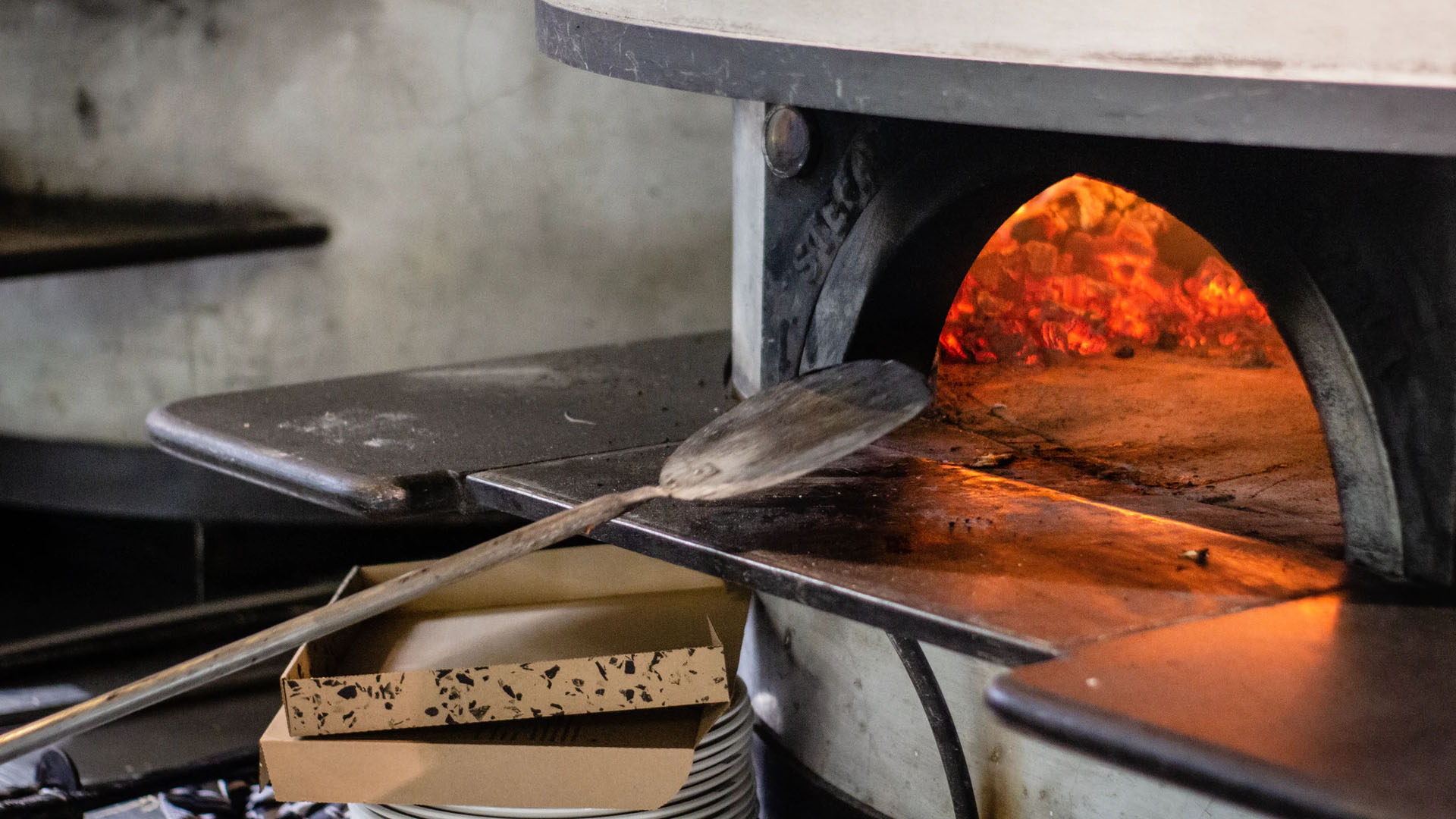 Let's take traditions aside and consider the necessity of using this device in a modern kitchen. First of all, it provides the proper level of safety when working with extra-hot pizza ovens. Some models can heat up to 1000°F, and it is simply contraindicated to climb into such a chamber with bare hands. Moreover, getting too close to such furnaces is also dangerous because the heat can scorch your face. To avoid health risks, professionals use pizza peels. Also, using this tool, you can easily place any dish in the very depths of your oven, rotate it if necessary, and take out the pizza when it is ready. As you can see, the benefits of using spatulas are undeniable, so let's move on to guidelines on how to choose the right tool.
Pizza Peel Guide
pizza experts from pizzaovenradar.com tell us that Ppeels are different, and your choice depends on the conditions in which you plan to use them. There are several important criteria that you need to pay attention to when purchasing.
1. Material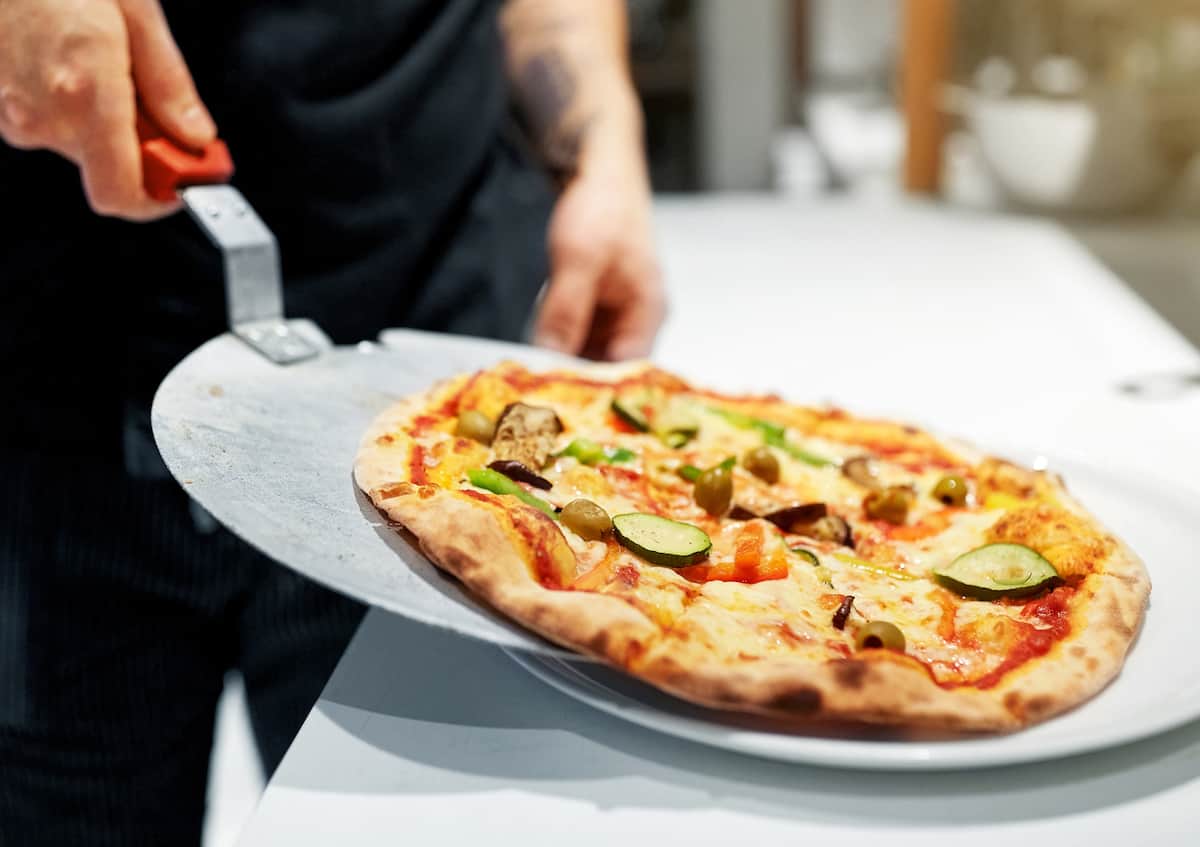 Modern instruments are made of three materials: wood, steel, and aluminum. Each of them has its advantages, but there are also cons.
Wooden peels are traditional instruments that have a long tradition. They are made of durable wood types and are easy to clean as dough sticks less to them. The disadvantages are the short lifespan and the maintenance of good hygiene so that bacteria do not grow on the tool surface.
Steel spatulas are more durable and more solid than wooden ones. They do not deform from high temperatures and during use. However, they can be quite heavy, and dough and flour stick to them.
The aluminum tools are extra-lightweight yet durable enough and have a very thin blade that makes it easy to take the pizza out of the oven. Unfortunately, raw dough sticks to aluminum peels just like other metal tools. To improve the performance of aluminum spatulas, brands use special metal processing methods (for example, anodizing).
2. Shape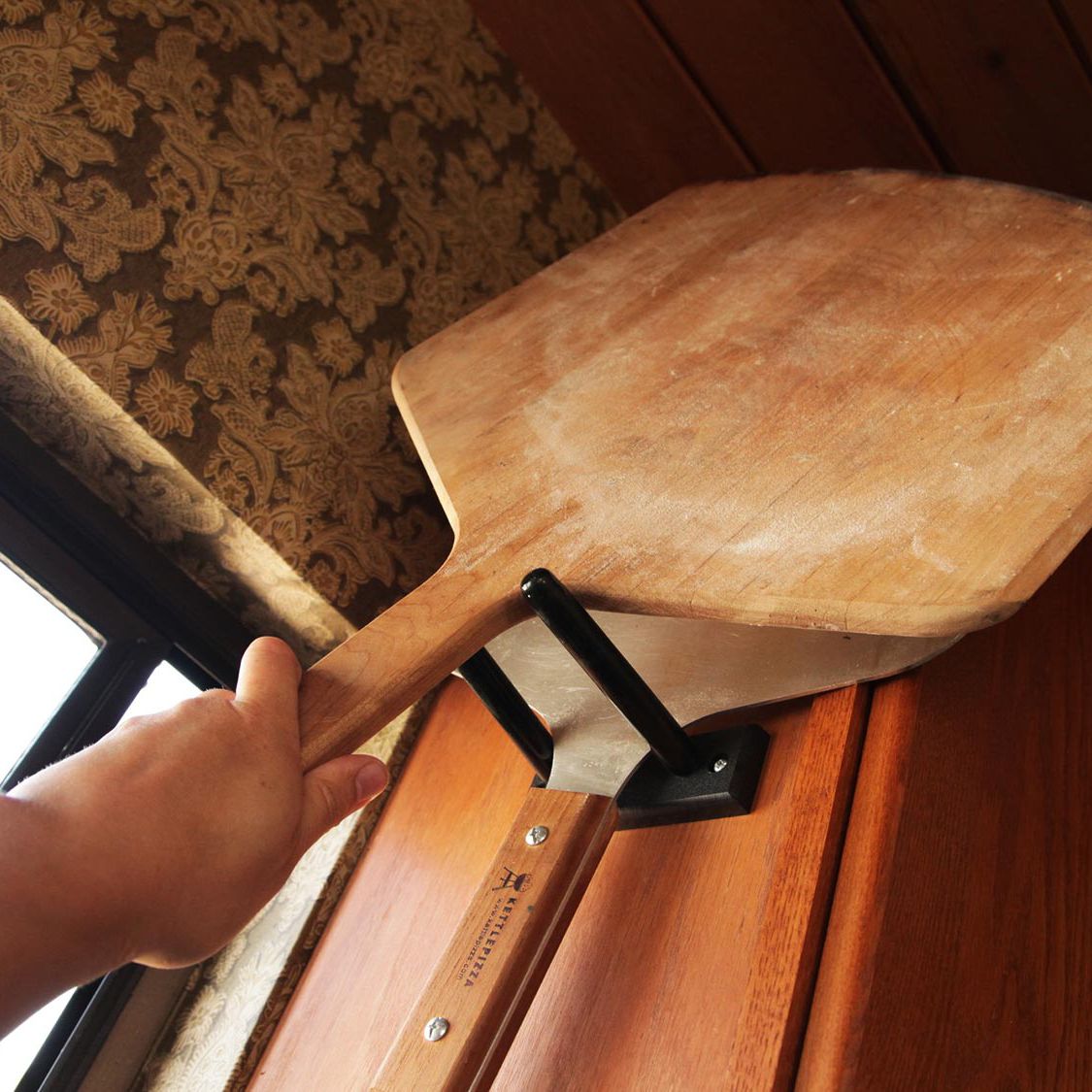 Manufacturers make two types of pizza spatulas, rectangular and round. The rectangular shape is the traditional choice for the most accurate lifting and carrying of pizza. These peels have the largest surface area and a bevel at the front part, making it easy to pick the pizza when taking it out and put it into the oven without any difficulty.
Round spatulas have an extended gripping area with a bevel along the entire working surface, which allows you to grip pizza not only from the front but also from the sides. Thanks to the beveled corners on all sides, they let you place the pizza in the middle of the oven, which ensures that it roasts evenly and that the oven is used at maximum efficiency. As a rule, round tools are more often used to turn pizza inside the furnace.
3. Perforation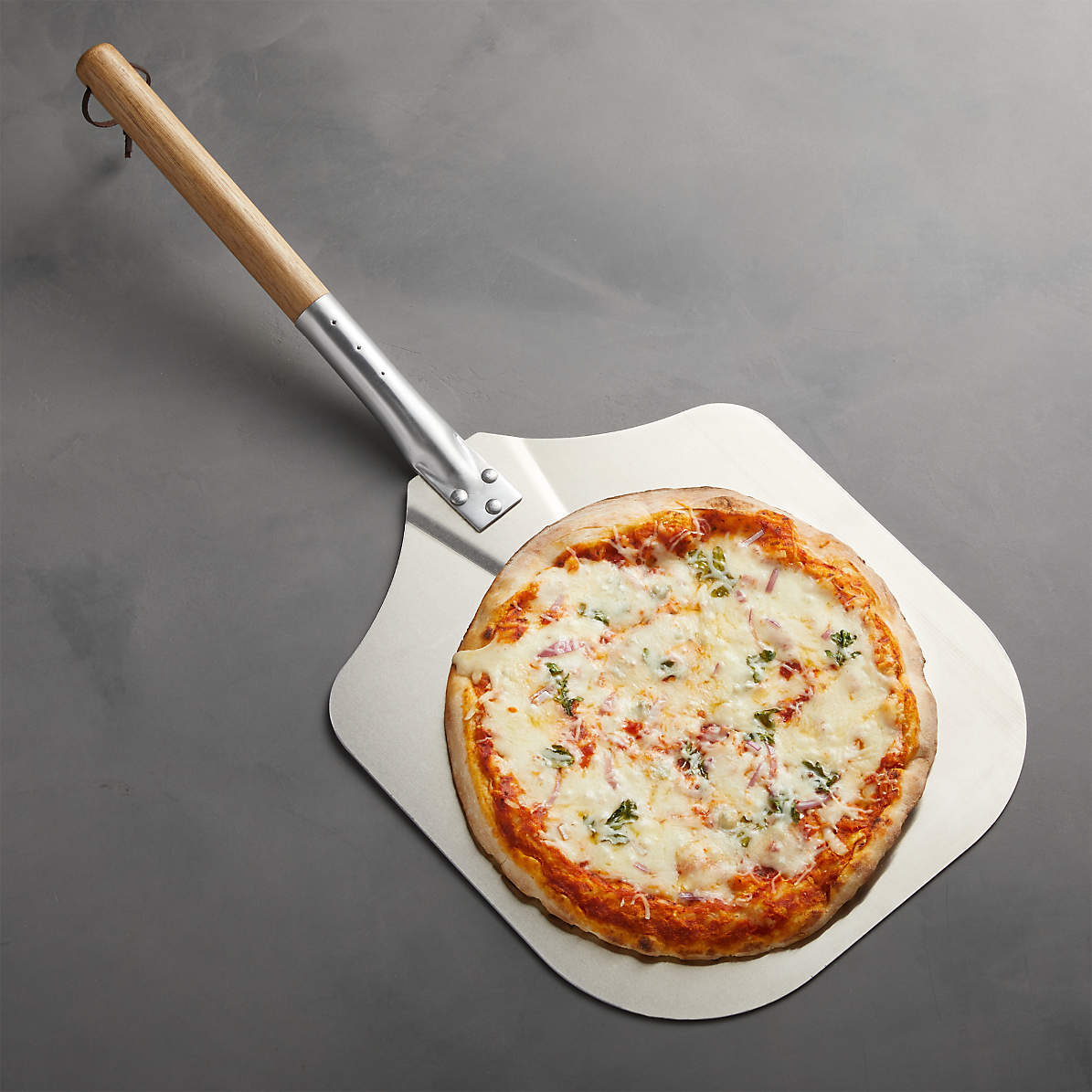 It is an optional parameter that does not significantly affect the pizza cooking process. Perforation can be either on round or rectangular peels. It is done in order to reduce the overall weight of a product, thereby making it easier for you to operate it. If you cook a lot and often, it is an important factor. Also, excess flour from the dough is poured through the holes on the surface. It helps to reduce the overall consumption of flour, eliminates the need to frequently clean the oven from burnt residues, and improves the taste of the dish itself.
4. Size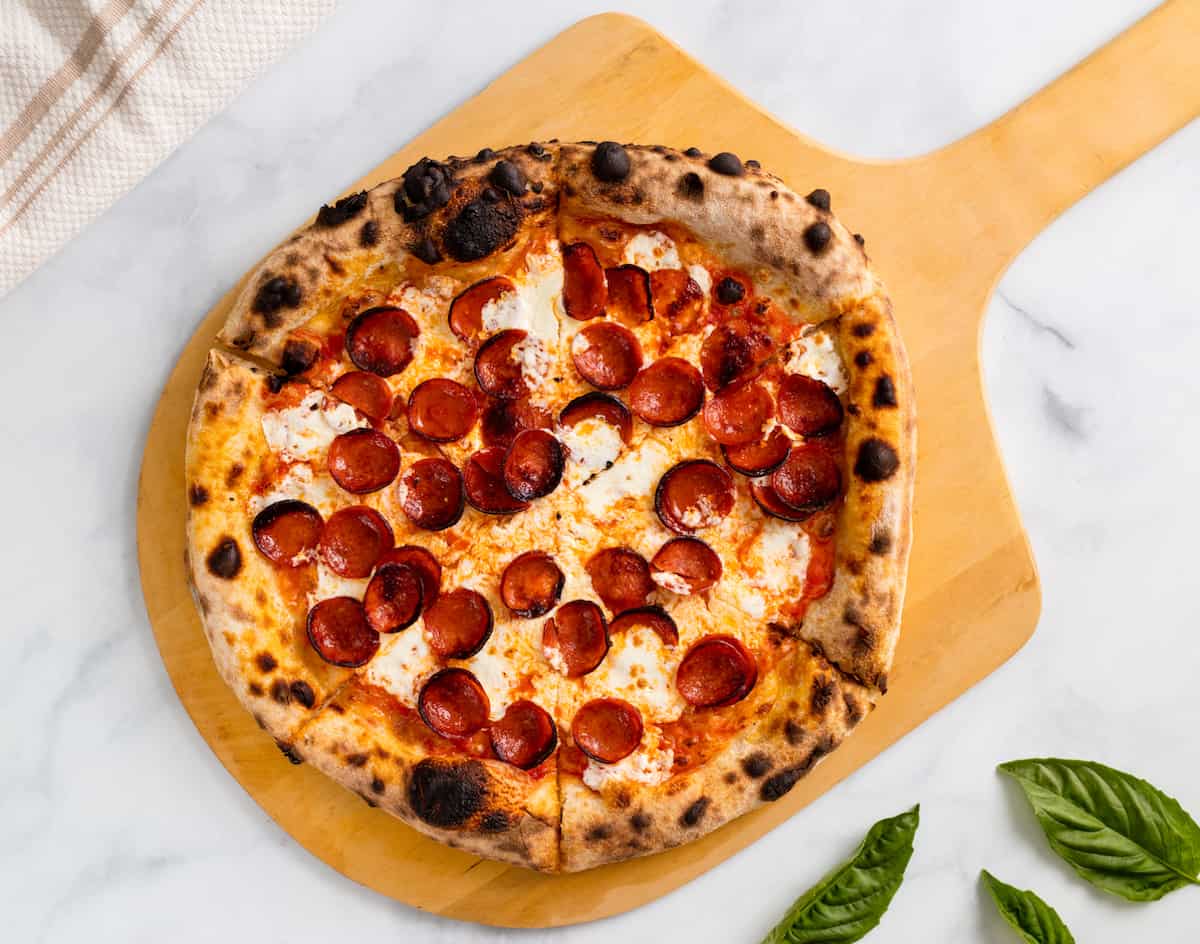 The size of a peel is directly related to the size of the pizzas you cook. If you prefer portioned pies for one to two people, buy a tool up to 15 inches in diameter. Of course, it will not be enough for large pizzas. Professional spatulas can be as big as 20 inches in diameter. As a rule, a small tool is perfect for home use, especially since compact ovens simply cannot fit large pies.
5. Handle length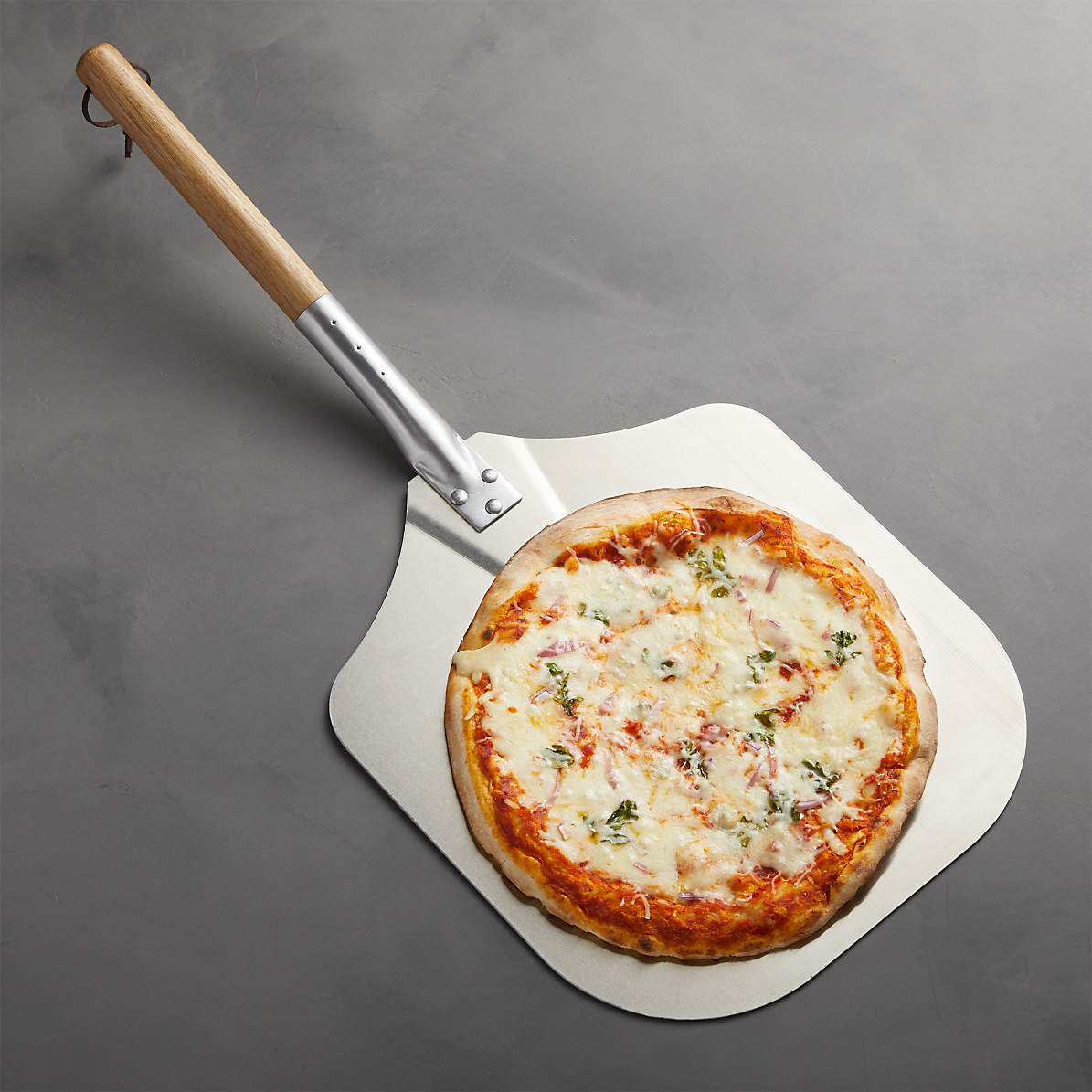 This feature depends on the size of your kitchen and pizza oven. In a small room, it will be very inconvenient for you to use a tool with a long handle; you will constantly hit objects around you. Therefore, it is worth looking at a spatula with a short grip of about 10-12 inches. Pizza peels with handles in the range of 22-24 inches are considered standard and versatile as they are the most commonly used. You can find models with grips about 50-70 inches long for professional purposes and comfortable working with extra-hot and large ovens. The length of a handle should be long enough so that you can reach any corner in a cooking chamber while keeping a safe distance from the furnace.
Final Tips and Recommendations
If you cook pizza regularly, then the choice of spatula should be taken as responsibly as possible. Please read carefully such parameters as the total product weight, the handle length, the blade thickness, the material, and so on. A good tool should be durable, resistant to temperature extremes and mechanical damage. If you occasionally cook under different conditions (at home, in the backyard, and at picnics), you should consider buying several peels in different sizes.
In order for your chosen tool to serve you for more than one year, do not forget to take proper care of it, clean it regularly, and store it correctly. It does not only extend the life of the product but also helps avoid the side effects of bacteria growth and corrosion. If you do not thoroughly clean the surface of the spatula from pieces of dough, with subsequent uses, pizza will no longer roll off so easily; it will burn and acquire an unpleasant bitterness. Steel and aluminum peels are the easiest to maintain, but less damp dough sticks to wooden spatulas. Whichever tool you end up choosing, learn how to clean it properly and which remedies to use.