Home
Bring Life to Your Bathroom With a Towel Rail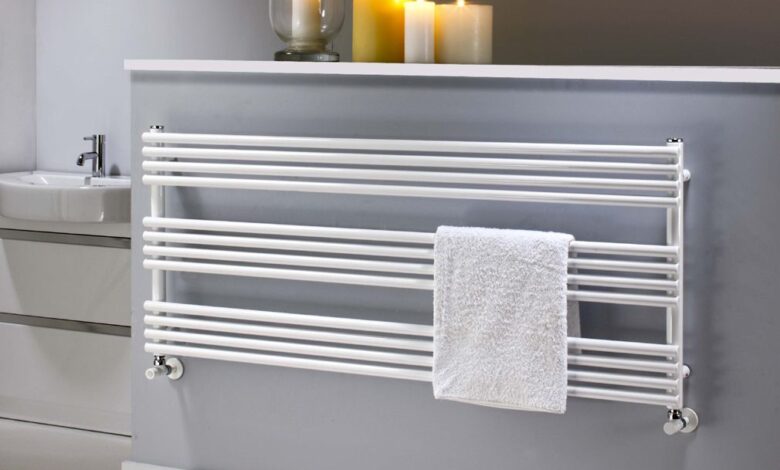 Balancing form and function
Choosing the right radiator for your bathroom can be a painstaking task. No matter how much space you have to work within a house, designing the bathroom is always a crucial part of the process.
It is unarguably one of the most essential rooms in any house and the key to a beautiful bathroom – whatever the size – is finding the perfect equilibrium between form and function.
For those who are designing their dream home, getting the bathroom right can make all the difference. Thanks to the variety of options which are available today in regards to style, it is now possible to find the perfect radiator which both complements the design of your bathroom and keeps you and your towels warm and toasty.
Optimizing space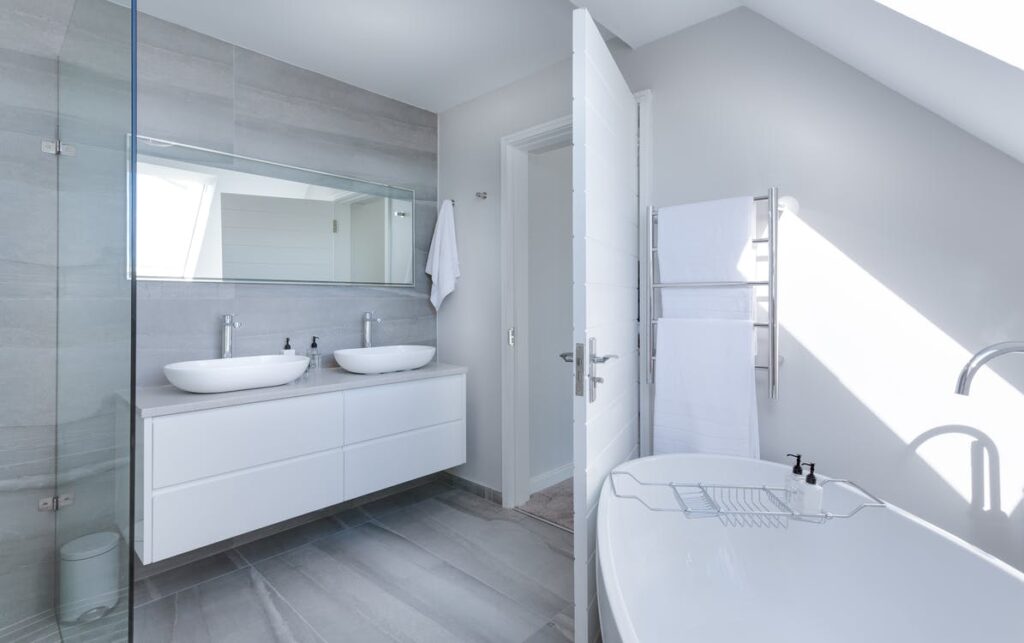 One of the most important factors that it pays to keep in mind when looking for the best radiator for your bathroom is the amount of space you have.
Nobody wants to have a cluttered bathroom and making sure that any free space is optimized is something that a well-selected radiator can help with. Luckily sites such as Trade Radiators make this task far easier, by offering a wide variety of top-quality radiators that cater to all tastes and styles.
The dimensions of a bathroom also plays into the design options which are open to buyers. For example, whilst a wider cast-iron radiator may look attractive, it is perhaps not the best fit for houses or flats which have narrower bathrooms.
Chrome heated towel rails
A chrome-plated towel rail adds a distinctive shine to your bathroom in a way that no other metal can compare to. They are a great way to optimise the space in both smaller and larger bathrooms as well as add some modernist flair.
However, there are some key considerations to take into account to help you make the best decision when shopping for a chrome heated towel rail.
Size – there are thousands of sizes of chrome heated towel rails made to fit all bathroom spaces. Thinner ladder-like models are typically 600mm in height and around 400mm in width to maximize space. However, wider models can be found which are as much as 1000mm in width, for those who have larger bathrooms.
Heat – The amount of heat which a radiator produces is measured in British Thermal Units (or BTUs). Chrome is an excellent metal for heat insulation, and many models can produce up to 620 BTU's of heat when operational. This varies, however, depending on the size – so buyers should make a point to check the BTU output before making a final purchase.
Spacing – The number of bars which each towel rail has is another consideration that buyers may wish to bear in mind. Some of the more eye-catching designer towel rails may have fewer bars than traditional models for aesthetic purposes. However, this could limit the number of towels which can be hung at one time.
Cost – Another obvious factor to take into account when radiator shopping is your budget. There are radiators to suit every budget, but some of the more designer models may be out of the price range of certain buyers.
Choosing the best model for you
Reina Rezzo Towel Rail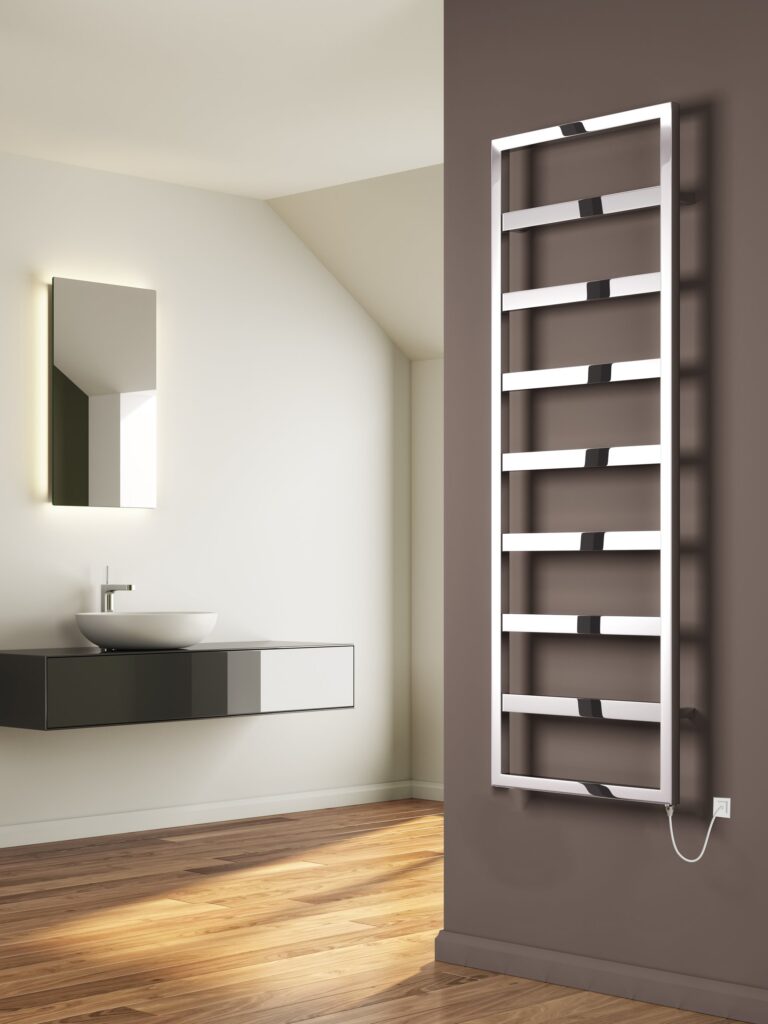 This straight, chrome heated towel rail is an instant minimalist classic. It measures an impressive 740mm in height and 450mm in width, meaning that there is plenty of room to easily hang and organize your towels.
The Reina Rezzo Towel rail can generate a heat of around 584 BTUs which is more than sufficient to keep your towels and bathroom comfortably heated, and it is divided into 9 bars, each measuring 420mm. The tasteful spacing of the bars on this model makes it both extremely practical as well as visually appealing.
Traditional Towel Rails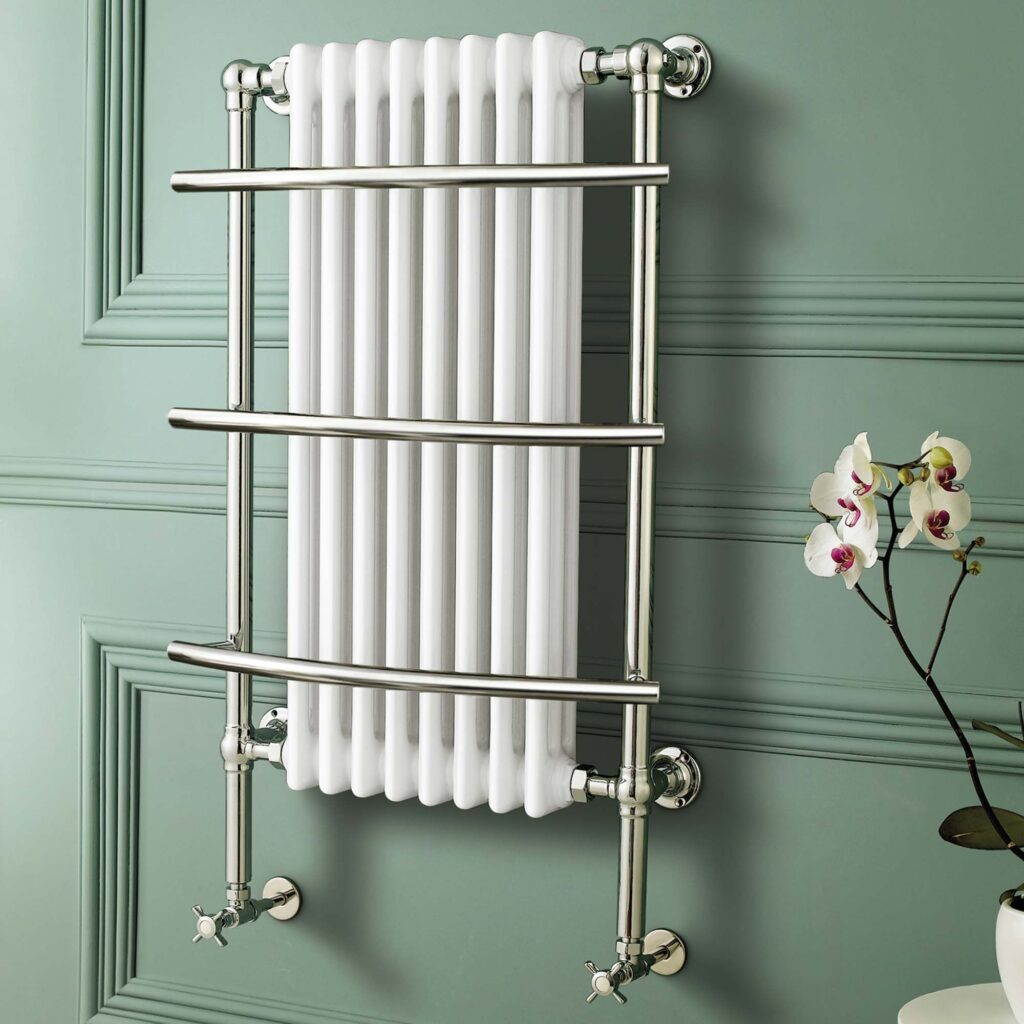 For those who are looking for a more classical aesthetic in their bathroom, one option would be to choose a traditional highly-polished radiator. These can generate as much as 2006 BTUs, which is impressive given their more compact dimensions.
Rails like these also often have an additional rail above the radiator section, which is perfect for hanging towels as they will get the most of the heat.
The radiator section of these models is usually divided into 7 sections and can be either white, black or chrome – depending on the preferences of the buyer and the style of the bathroom it is to be fitted in.
Reina Grace Towel Rail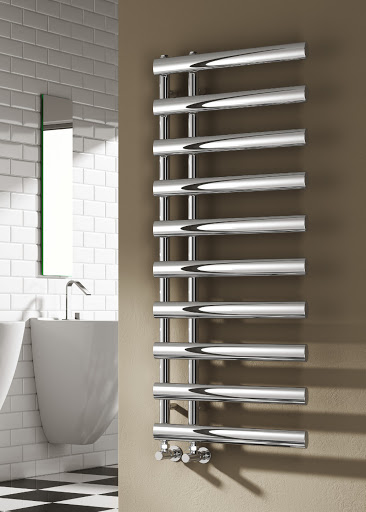 Another impressive chrome towel rail for buyers who want a modern, clean aesthetic is the Reina Grace chrome radiator. This stylish model features thick chrome bars which run horizontally along with the height of the radiator and are open on one end.
Not only does this add a distinctive style to the model but it also has practical advantages for easily removing and re-hanging towels.
The Reina Grace model can generate as much as 786 BTUs, which is more than plenty to heat your bathroom towels perfectly and is bound to complement any bathroom setting.
Nordic Flat Towel Rail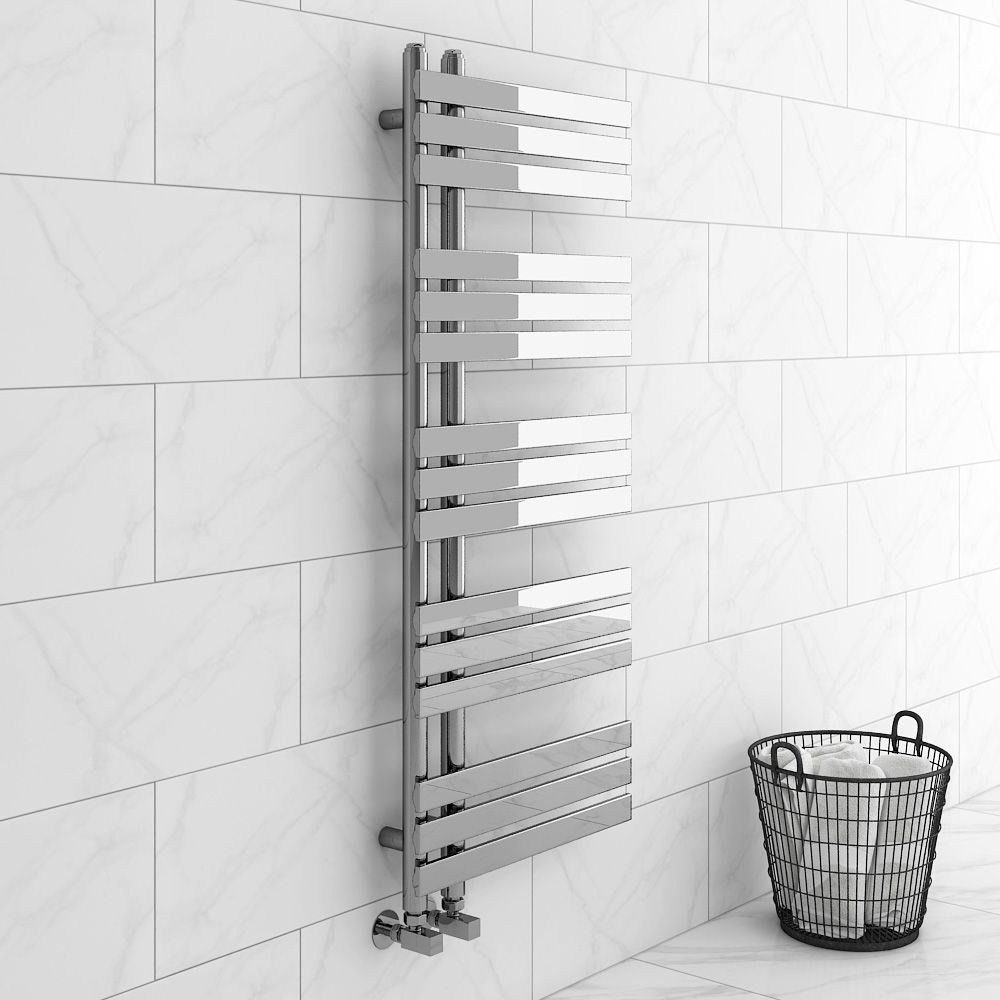 A popular option for buyers who are looking to make the most out of a smaller space would be to choose a Nordic-style flat towel rail.
Famed for their clean and functional beauty, Nordic models are a perfect way to add some Scandinavian-class to your bathroom design. These chrome models are 940x500mm and feature 9 bars which are divided into three sections – for optimal usability.
Models like this have been designed to be almost entirely flush with the wall, yet still allow enough space to hang towels easily, and can generate an impressive heat of up to 1307 BTUs – making them a highly effective, subtle yet functional option. Anyone who is looking for a simple and elegant solution for warming their bathroom could do worse than a model such as this.
Finding your perfect match
Whilst radiator shopping may be somewhat daunting, buyers need to remember that there are plenty of options available to them which have been specifically designed with the shapes and dimensions of your bathroom in mind.
Making the right decision may require some consideration and research, but you can be assured that the perfect model is out there and readily available through an online retailer.